♥ gears of love ♥ lyrics in English Sleeping wrapped in your arms
How many times have I dreamed that?

In this room with out you... Being alone makes it a bit too spacious. The gears get broken that day, Can no longer get fixed. Although I had to let go of that ♥ myself. I'm like an idiot, aren't I?!
Even though our distance on a map, is only a few centimeters ... I again spend the night alone.......
Check the rest of the song on Sakura hayashi's channel!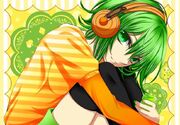 Ad blocker interference detected!
Wikia is a free-to-use site that makes money from advertising. We have a modified experience for viewers using ad blockers

Wikia is not accessible if you've made further modifications. Remove the custom ad blocker rule(s) and the page will load as expected.