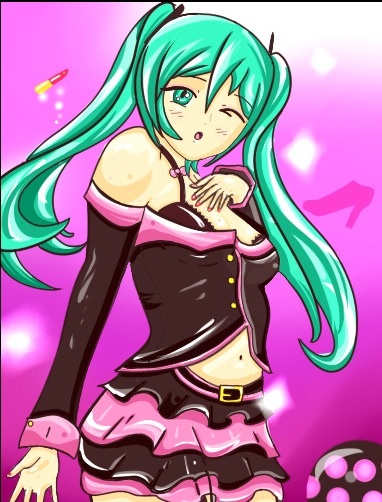 Miku's hair is styled in pigtails, fastened with black cloths she wears a Lacey black bra, with a black, gold button down sweater with pink lining that cuts at the sleeves. She wears a black and pink layer skirt.
She also wears a black garter strap with lace see-through black knee socks, the garter clips to the sock. For shoes, she wears red kitten heels.
Accesories Facts: On her bra strap, there are pink bows, and instead of blue nails, her nails are pink!
Ad blocker interference detected!
Wikia is a free-to-use site that makes money from advertising. We have a modified experience for viewers using ad blockers

Wikia is not accessible if you've made further modifications. Remove the custom ad blocker rule(s) and the page will load as expected.