In this style of Miku her hair is styled Emerald Green still in pigtails, but shorter, and the ends are curled. Her pigtails are tied with Black ribbons. Miku's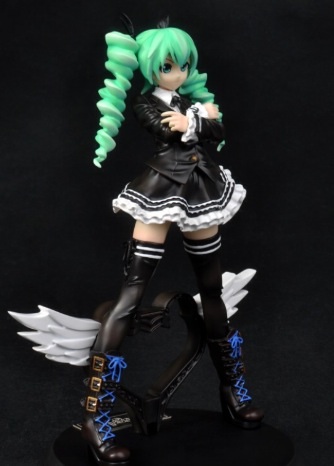 theme in this style Is business Lolita because of her lace accessories. She wears a black blazer with a black tie, her blazer Is button down with gold buttons,and she wears a white button down shirt, where she tied her bow. Her sleeves are flocked with white thread and lace. She wears a tutu like black skirt, that is also flocked with lace and thread. Her Knee socks are black with white stripes on them. And a few inches below her knee, there are white angel wings sticking out. She wears black sneaker boots, with bronze buckles on the side and navy blue laces.
Ad blocker interference detected!
Wikia is a free-to-use site that makes money from advertising. We have a modified experience for viewers using ad blockers

Wikia is not accessible if you've made further modifications. Remove the custom ad blocker rule(s) and the page will load as expected.